THEMATIC PROJECTS
The UNDP and its partners continue to strengthen the support and resources available to protected areas. This section provides more information on their conservation activities in Papua New Guinea.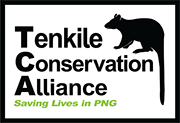 Tenkile Conservation Alliance (TCA)
Dummy text in co-operation with relevant government agencies and supporting non-governmental organizations, can help establish and manage protected areas to ensure there is a balance in land use and protection of natural resources from over-exploitation.
Tenkile Conservation Alliance Inc